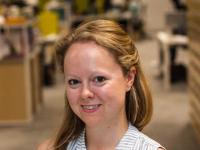 Alex is the Head of Policy Engagement and Learning at the Innovation Growth Lab (IGL).
She leads engagement work with IGL's international network of innovation policymakers, supporting them to embed experimentation practices in how they work and facilitating learning opportunities between them. Current projects include a comparative study of more than 40 innovation agencies across Europe and Latin America in partnership with the TAFTIE network and the Inter-American Development Bank, and management of stakeholder engagement activities within a major EU project on engaging citizens in the work of research and innovation funding organisations.
Before joining IGL in 2020, Alex held a number of different roles at Nesta, conducting research on inclusive innovation policies, and working with government innovation agencies around the world on strategy development. Prior to this, she worked at the Institute for Public Policy Research and the Institute for Strategic Dialogue, managing research and policy projects relating to migration, international development, integration and diversity. She is an accredited coach, and works with individuals and teams on leadership development. She is also co-author of Inclusive Innovation (2022) a title in the Routledge Studies in Innovation, Organizations and Technology series.