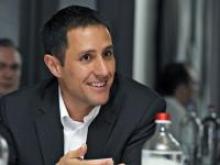 Albert Bravo-Biosca
Albert is a Senior Economist at Nesta. He leads Nesta's work on innovation and entrepreneurship experiments, which focuses on using randomized controlled trials to improve the design of the programmes and institutions that help to make economies more innovative and entrepreneurial.  
Since joining in 2007, his work has been at the intersection of innovation, growth and finance. He has led two of Nesta's major research programmes in this area, one exploring business growth dynamics and its drivers in the UK and internationally, the other examining the contribution of intangible assets to productivity growth.
 
Among others, his research has also looked at the drivers of venture capital performance, the linkages between financial institutions and innovative performance, and the effectiveness of innovation policy.
Albert holds a PhD in Economics from Harvard University, a MSc in Economics from the London School of Economics, and a BA in Economics from Universitat Pompeu Fabra. 
 
He is a guest professor at the Barcelona Graduate School of Economics. He has also been a visiting economist at the OECD and a consultant for the World Bank.